'The voyage of discovery is not in seeking new landscapes but in having new eyes'

Marcel Proust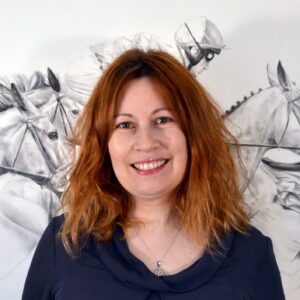 'I have always painted, and the summers I spent in rural Ireland as a child left a deep impression and sketch books full of drawings. Devon, where I grew up, also contributed to a love of country life and horses. The wild ever-changing landscape of Dartmoor adequately filled the gap between summers in Ireland.
I have spent many cold days on racecourses trying to capture atmosphere and warm days at fairs and shows looking for the perfect light. I photograph, sketch and gather as much information as I can on site. Then I can take my time in the studio creating paintings, reveling in the drawings, photos and memories from those days out seeking inspiration.'
Sara completed an Art Foundation course and studied History and Art History at Plymouth University, followed by a MA in Irish Studies at Bath College. She began receiving regular commissioned work during her college years and moved to Ireland in 1996 to finish her Master's Degree and to paint.
She exhibits her work in Ireland and in the UK and her work is in private and public collections worldwide. She has completed a number of notable commissions such as, a painting as a gift for HRH Sheik Hamdan Al Maktoum and a life size resin horse sculpture for a public arts trail in Ireland. Her work has been long and shortlisted for major international art prizes including Wildlife Artist of The Year 2010, Highly Commended Patchings Art Prize 2016, runner up in the' Silk Series' Best Painting by a female artist, 2017, Jackson's Open Painting Prize 2018 & 2020. She is the first Irish artist to be elected a Full Member of the British Society of Equestrian Artists. You can find details of upcoming events here
Recent Exhibitions
2020 'Harvest' West Cork Creates, online exhibition
'Members Exhibition' West Cork Art Centre, Skibbereen, Co. Cork
2019 'Horse in Art' Society of Equestrian Artists (SEA), Sally Mitchell Gallery, Tuxford, Nottinghamshire, UK
'UndersArtsorders' Public Art Project, Naas Racecourse, Irish National Stud, Curragh Racecourse, Co. Kildare
'Misneach' Lisnabrinna, Ballygurteen, Co. Cork
'Members Exhibition' West Cork Art Centre, Skibbereen, Co. Cork
'Members Exhibition' Lavit Gallery, Cork
2018 'Horse in Art' Society of Equestrian Artists (SEA), Sally Mitchell Gallery, Tuxford, Nottinghamshire, UK
'Members Exhibition' West Cork Art Centre, Skibbereen, Co. Cork
2017 'Horse in Art' SEA, Sally Mitchell Gallery, Tuxford, Nottinghamshire, UK
'Regions' West Cork Art Centre, Skibbereen, Co. Cork
'Kilkenny Arts Festival' Kilkenny Art Gallery, Kilkenny
'SEA Summer Exhibition' Palace House Newmarket, UK
'Sara Hodson & Dee Pieters' Aisling Gallery, Ballydehob, Co. Cork
'Members Exhibition' West Cork Art Centre, Skibbereen, Co. Cork
Recent Awards and Publications
2019 The Society of Equestrian Artists 40th Anniversary (book)
2017 Promoted to Full Member of the Society of Equestrian Artists UK
2017 Runner up and UK 'Silk Series' finalist 'Best Painting by a female artist'